App Manager allows you to deploy and keep up to date applications on workstations. The app currently available are selected, validated and hosted on our high capacity servers. These applications are :
7-zip
Adobe Reader
Google Chrome
Mozilla Firefox
Flash
Java
Notepad++
PDF Creator
…This list will keep growing
Access
To access it you need to click on "Actions" >> "App Manager"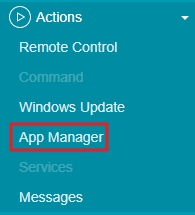 Scheduler
Once the inheritance is deactivated (1) you can display the scheduler and define the time windows (2) in which the agents will be allowed to update. If the installation fails there is two more attempts. The application will be successively downloaded and installed.
If the agent is offline during the given update timeframe you can force the installation on the next connexion (3).
The reference time is the local machine's time.

Applications
You can then chose the applications that you want to deploy with the "+" (1) button on the right in "Available applications". Once saved your policy will be applied during the next time frame.